Environmental Statement
OUR COMMITMENT TO THE ENVIRONMENT
At Hako Machines Ltd, we are committed to minimalising our impact on the environment and putting practices into place to protect the environment in the future. 
Part of this commitment is to is reduce our carbon emissions and become a 'net zero' company. Net zero will be achieved by carbon offsetting to quickly reduce the company's impact on the environment.
Since 2004, Hako GMBH has secured ISO 14001 which Hako UK is aspiring to achieve over the coming year as it continues to strive to do more for our environment.
We are now expanding those considerations, so they become part of every working day, every task we undertake, and every choice made. 
Our environmental commitment is led by Adam Bennett, Environmental and Compliance Manager.  
We are:
Investigating renewable energy sources.

Using available technologies to reduce daily emissions.

Continuing to recycle and re-utilise equipment after first life.

Ensuring energy efficiency is at the heart of all key projects.

Upgrading our vehicle fleet embracing the latest technologies. 

Training all drivers so company vehicles are used economically.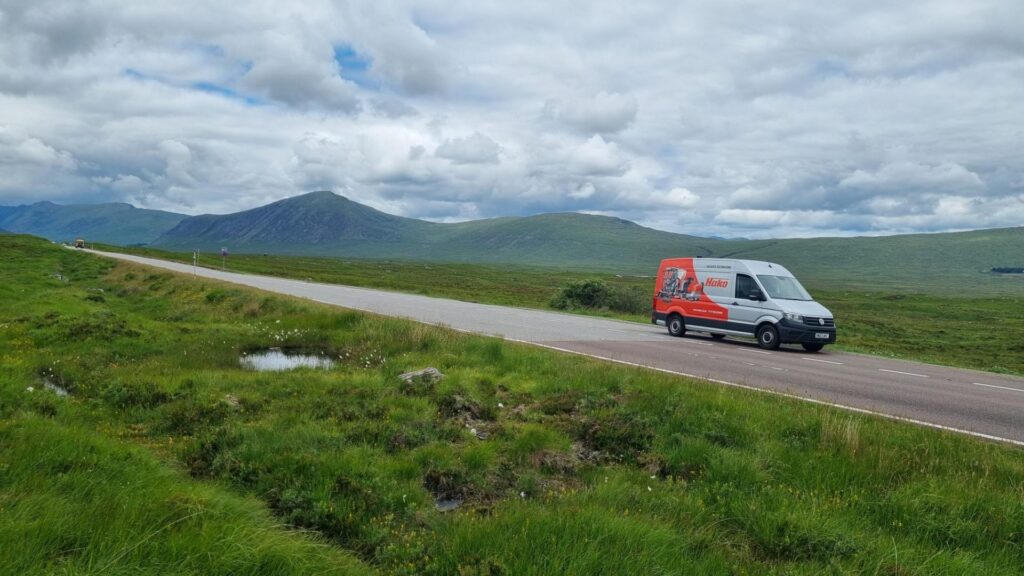 OUR MACHINES
Environmental considerations are deeply rooted into the design philosophy of our Research and Development teams and are integrated as core innovations in our products. The majority of these innovations increase efficiency and comes as standard with our product range. 
Whilst our machines are currently manufactured from steel and plastic, the factory is currently reviewing all of its supply chains and there are plans to switch to using recycled plastics in the future to ensure the machines are more environmentally sympathetic.  
However, we are able to recycle up to 90% of our machines at end of life, The majority of machines are either put through our refurbishment program or sold as complete units to give them a second or even a third life, expanding their lifespan. 
Our Hako AquaControl features can be used to save up to 50% of water and cleaning agent at no extra cost, whilst the Hako PowerFilter (installed on indoor sweepers) enables the clearing up of dirt and debris without swirling up dust. These special dust suppression systems have a filtration efficiency of up to 99.5% – ensuring clean exhaust air without a price premium.
We also encourage the use of less detergents to protect the environment.
Other products which have proven eco-efficiency include our high-performance gel and wet battery systems, modern LPG (liquefied petroleum gas) and economical diesel engines which are also compliant with Euro 5 certification. These highly efficient engines provide hassle free compliance for operation of Hako machinery in environmental zones.
We have also introduced our first electric motor powered Citymaster road sweeper. This will no doubt be the first of many electric motor powered vehicles in the future.
Hako's collection of batteries
Under the Waste Batteries and Accumulators Regulations 2009, Hako Machines Ltd produce lead acid and gel batteries. We are pleased to take back waste industrial and automotive batteries supplied to an end user and collect free of charge for treatment and recycling. We are required to do this in any calendar year we place new batteries on the market.
To return batteries, please contact our Customer Support Centre and we will make the necessary arrangements for the return, proper treatment and recycling of the industrial or automotive batteries.
OUR WORKING ENVIRONMENT
Our Crick HQ has been fitted with solar panels to be more energy efficient. Examination of data for the first three months they were installed has proved these are providing 80% of the Crick electricity consumption.
EV charging points have been installed for company and visiting vehicles. 
Our new Wakefield depot and training centre will reduce traveling for repairs and training in the northern part of the country. It is a newer building and therefore will be more efficient to run than the current location. 
Hako is working with Baxter Environmental to oversee its waste management, providing three waste skips at the Crick HQ. Cardboard and wood are now split into separate skips to minimise the use of general waste. 
Baxter's will also provide a carbon emissions report, so Hako knows how it is performing from an environmental point of view. 
Staff are also getting on board with various recycling bins to allow domestic kitchen recycling can now be found in the communal areas. 
Those who work remotely and travel transporting Hako machines and visiting customers around the UK and beyond have been educated on how to drive more economically. 
Hako is also investing in electric alternatives to its motoring fleet. As a business, we are continually monitoring technology to ensure that the fleet has as little impact on the environment as possible.
Hako has also committed to reducing its printed materials with all brochures available digitally rather than hard copy format. We are also reviewing all of our internal processes to make as many of these paperless as possible.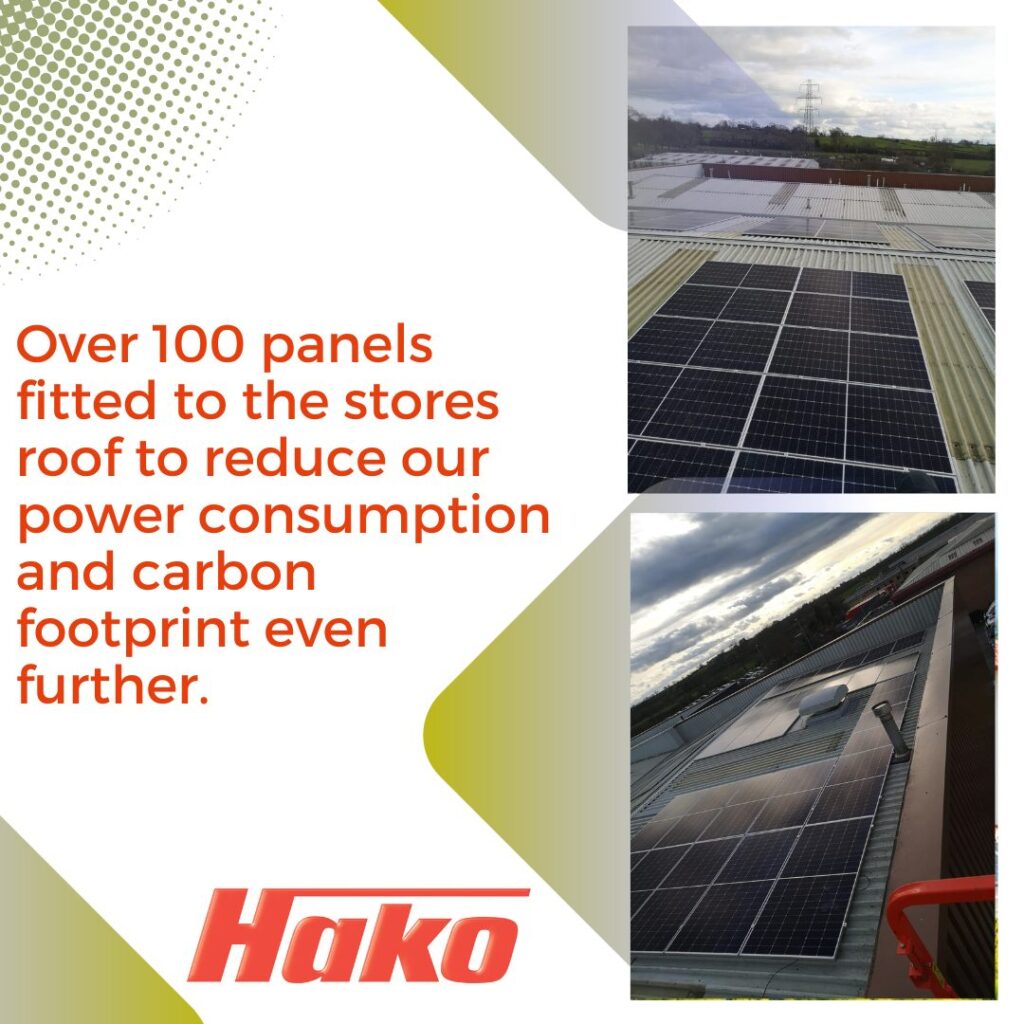 OUR COMMITMENT TO THE PLANET
Hako is working with ForestNation to plant trees in Tanzania that will also help to generate income and better living for the community. We committed to planting over 2,000 trees in 2023 but so far have planted over 30,000 trees, massively exceeding our target. 
The local villagers actively protect the forest from fires and trim the trees in the event of heavy rainfalls for the next five years. Our Forest will be in the Eastern and Western Usambara Mountain Ranges, where heavy deforestation has ruined the livelihoods of many locals. By providing seedlings to families to plant on their farms, once matured, they will produce a regular harvest, yielding food and potential income.
By cultivating 100 mature fruit-bearing trees such as peach or avocado in the Hako Machines Ltd Forest, Tanzania growers can earn an income of $173* and yield 10 tons of oxygen per year. Plus, it will offer employment to 200 women year-round and up to 800 women seasonally as well as empowering students who visit the nurseries regularly to learn about horticulture and botany.
With 18 million acres of forest lost each year, the devastation of deforestation can no longer be ignored. ForestNation is a for-profit sustainable business offering products and services that unite environmental, social and commercial goals while empowering individuals and organizations to reforest the planet and reconnect to nature.
As part of the programme, Hako has produced its own planting pot with everything you need to start growing your own tree. If you would like one, please let us know. 
For every tree kit given out, we will plant ten trees in the Hako Machines Ltd Forest in a developing region of Tanzania to reforest Mother Earth and help create sustainable livelihoods for people that need it most.
For every single tree you plant, we will plant ten!
View our forest on ForestNation: https://forestnation.com/net/forests/hako-machines-ltd/