Aron Taylor-Smith upbeat despite luckless trip to Brands Hatch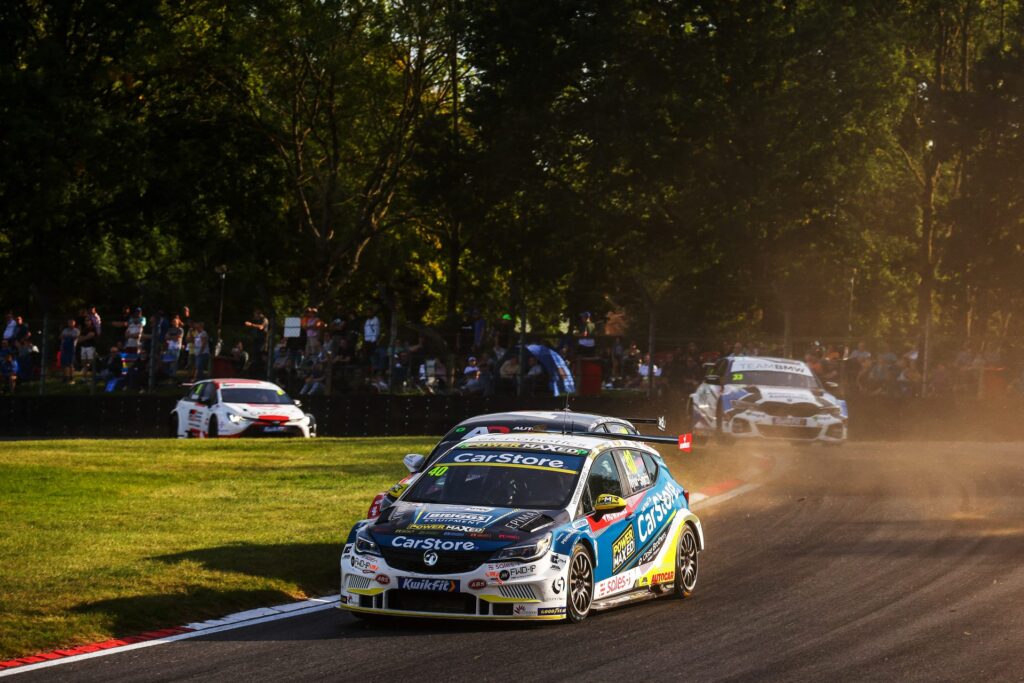 10th Oct 2023 / by Mark Parton
Hako sponsored driver Aron Taylor-Smith remained upbeat despite a difficult end to his 2023 Kwik Fit British Touring Car Championship campaign at Brands Hatch last weekend [7-8 October].
This season has been something of a renaissance for the four-time race winner. Having forged a partnership with a new team in CarStore Power Maxed Racing, and gotten to grips with the team's Vauxhall Astra challenger, Taylor-Smith has enjoyed a steady uptick in form over the past nine events.
That included ending a seven-year overall podium drought at Donington GP – then backing it up with another trip to the rostrum a fortnight later at Silverstone. The Irishman came within a lap of returning to the winner's circle in Northamptonshire, too, falling at the last to eventual champion Ash Sutton.
That, plus several Independent Drivers' victories and a starring role as the de-facto team leader in PMR's three-car line-up, have all served to reinvigorate not only Taylor-Smith's standing as one of the series' leading contenders, but also expectations as driver and team look to build towards a long-term future together.
Brands Hatch holds fond memories as the scene of Aron's maiden BTCC win back in 2012, but on this occasion, the racing gods had other ideas. Despite placing inside the top-ten and showing good pace in practice, Taylor-Smith could only battle to P15 in a typically hard-fought qualifying session on Saturday afternoon.
An 'elbows out' approach paid dividends in the opening race on Sunday in front of a capacity trackside crowd and millions more watching at home on ITV4, as the Dubliner battled his way through the order to P11 at the chequered flag.
That should have put Taylor-Smith in the frame for another reverse grid draw, but a puncture in the second race put paid to his charge, and he was eventually classified P24.
It would be a similar story of misfortune in the season finale, as avoidable contact from another car caused race-ending damage to the Astra whilst Taylor-Smith battled through the order. The culprit went on to finish inside the top ten, highlighting what might have been.
Regardless, however, 2023 has been a year to remember for Aron, CarStore Power Maxed Racing and the entire partner network, and the focus has already shifted to making 2024 even bigger and better.
Aron Taylor-Smith (#40) said:
"It was a tough weekend, but in the grand scheme of things, and the season we've had, it means very little. We got unlucky with a few scenarios, but the fundamental performance of the car was in the right window, so that's all I'm concentrating on – the rest is part and parcel of racing.
"In general, though, I'm so proud of what CarStore Power Maxed Racing and I have achieved across the season. On a personal level for me, I feel like it's rejuvenated my career, and it's given me so much motivation to get something sorted to stay here long-term, and to keep building with this incredible team.
"It's cliché, but I'd love to give a particular shout-out to my partner network. Without them, I'd have to go and find a 'proper job', so I'm immensely grateful for their support. I'm not even referring specifically to the financials; it's been so rewarding for me this year to have passionate, like-minded people in my corner at every race event, and they've definitely helped me unlock that extra tenth to kick on up the grid.
"A huge congratulations to Andrew on winning the Jack Sears Trophy, and commiserations to Mikey for finishing second. There always has to be a runner-up, but he's proven himself to be just as capable as Andrew in his rookie year, and I know both of them will enjoy a good career ahead of them.
"Looking forward now, I'm keen to have a bit of a break and spend some time with my dog Archie, and our little family, but then it's full focus on 2024, and I hope to be back, continuing this tremendous programme we've started to build with the team."
Find more info on the BTCC here www.btcc.net
For information on any of the Hako Machines range call 01788 825600 or email enquiries@hako.co.uk
Recent Posts

News Categories